Description
Sakura Miles Tissue-Tek VIP 1000 Floor Tissue Processor in Good Condition and Fully-Tested
Like all of our tissue processors here at New Life Scientific, this Sakura VIP 1000 has been inspected and tested by our technical staff and is ready for years of continued service. There is some wear on this processor, but it works without issue.
It has a full set of reagent bottles, all four paraffin tanks, program magnet and attached power cable. It also comes with a 90-day warranty so you can have confidence in each step of the process, from packaging at our facility to using it in your lab.
Timeless Design That Still Holds Up
This tissue processor is in good physical condition overall with some noticeable wear on the exterior, including significant paint chipping on top as shown in the photos.
The control panel and retort are in especially good condition. Overall, this system looks quite nice for its age and is built to last for many more years of use.
Inspected and Tested by our Technical Staff
Our technician tested this tissue processor according to our standard testing procedure by putting it through complete processing functions in manual and programmed modes, including:
- Testing oven and retort heating: PASSED
- Tested pumping and draining fluids: PASSED
- Tested cleaning cycles: PASSED
- Tested hot and cold cycles: PASSED
- Tested long and short cycles: PASSED
Comes with Reagent Bottles and Paraffin Tanks
Reagent bottles, 4 paraffin tanks, and a programming magnet are included with this tissue processor. Activated carbon filter bottle and baskets will need to be acquired separately.
Following is included with this system:
- Sakura Tissue-Tek VIP 1000
- Reagent Bottles
- 4x Paraffin Tanks
- Programming magnet
- Attached Power Cable
It's a Tried and True Instrument
Tissue-Teks are certainly an older series compared to the other brands, but their longevity testifies of one thing: reliability. Tissue-Teks are robust workhorses and the VIP 1000 is no exception. Though it's obviously seen usage over the years, it will continue to perform well for your needs.
We're an Experienced Tissue Processor Dealer
New Life Scientific is a regular seller of a variety of models of tissue processors from Sakura, Leica, and Shandon. We have experience in servicing them to ensure that they are functioning properly upon arrival. We don't just power on our instruments, but we test all of their core features and repair any issues.
We're offering you an affordable option for used tissue processors without the risk of buying an untested, unwarranted instrument from an unproven seller. Over the years dozens of organizations have chosen us as their solution, from small labs to major universities like Ohio State.
| | |
| --- | --- |
| Manufacturer | Sakura |
| Model | VIP 1000 |
| Model No. | 4617 |
| Serial No. | 8912555 |
| Retort capacity | 100 Tissue-Tek II or III Cassettes |
| Paraffin Stations | 4 |
| Processing Reagent Stations | 10 |
| Cleaning Reagent Stations | 2 |
| Fume Filters | 2 |
| Reagent Bottle | 2.0 L each |
| Paraffin Tank Volume | 2.0 L each |
| Voltage | 115 V, 60 Hz, 1210VA |
| Dimensions (W x D x H) | 20" x 23" x 48" |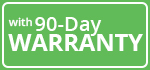 Backed by a 90-Day Warranty - Your instrument works, or we repair, refund, or replace.

Used - A pre-owned and tested product that may show signs of wear.

Flat-Rate Freight ($285) - The instrument is web-wrapped to a pallet with shrink-wrap.

Payment & Security
Your payment information is processed securely. We do not store credit card details nor have access to your credit card information.