Functional Condition
These instruments perform at manufacturer specifications, having undergone repair or service and sometimes cosmetic refinishing. Often, our work leaves the instrument in better functional condition and expected longevity than other used instruments of the same age. They are in excellent cosmetic condition.

Includes 120 day Warranty

These instruments have been confirmed to perform at manufacturer specifications by NLS technical staff and carry a longer warranty than standard used products. Additional extended warranties may be available for these instruments.

Includes 120 day Warranty

These instruments have undergone various levels of quality testing, some quite limited and others extensive. However, all are guaranteed to perform to manufacturer specifications unless some defect or limitation has been specified. Please pay close attention to the description to understand exactly what you are purchasing.

Includes 90 day Warranty

These instruments are either known to be malfunctioning or not guaranteed to function properly and are suitable for repair or salvaging for parts. They are not protected by a warranty.

Does not include a warranty
Cosmetic Condition
This product could almost be mistaken for being new, having negligible or no cosmetic issues. These issues may include things such as a small scratch or a few small nicks in the exterior. Little can be done to improve the condition level of this product.

This product has the appearance of a typical used product having some minor cosmetic issues and typical wear from use. These issues may include things such as scratches, scuff marks, nicks, a small hairline crack, or shallow dents in the exterior. Fixing these issues would only somewhat improve the condition level of this product, but wouldn't be considered necessary.

This product is clearly used and worn from much use having significant cosmetic issues and wear. These issues may include things such as large sections of paint chipping, scratches, deep scuff marks, dents, discoloration, cracks or stains. Fixing these issues would improve the condition level of this product, but it may be too costly.

This has the appearance of being broken and/or heavily worn from use having serious cosmetic issues and wear. These issues may include things such as huge sections of missing paint, discoloration, caustic erosion, deep dents, large cracks or frame warping. A major overhaul of the cosmetics would be required to fix the issues with this product.
Description
Fully Functional SI-1200 Enviro-Genie
Excellent Working Condition


This awesome laboratory equipment does it all in one unit, with refrigerated, incubator, rotator, rocker and a stirrer. It will quickly achieve the temperature of 37C and when prompted it will drop to 4C in approximately 50 minutes.
The magnetic tray makes changing clip plates, trays, and other holding accessories easy: It just slides on and off. Reversible magnetic stirrers are inside the bottom of the unit. Changing methods is user-friendly and easy.
The EnviroApp (for Windows 7, 8, and 10) and a manual is current and available from the manufacturer for download with all the different accessories you could need and pricing at
scientificindustries.com/enviro-genie.html


Included Accessories for Enviro-Genie
- 1x Stackable Shelf (#SI-1131) $55.59
- 1x Non-Skid Tray (#0A-1200-001) $74.46
- 29x Clip Plates (#SI-1121) $133.69 per 6-pack


Includes a 90-Day Warranty for your protection
We realize that buying a second-hand instrument can be unnerving, therefore we offer a 90-Day Warranty to protect you against any equipment failure or defects.
Technician Tested
Our technician confirms that the Enviro-Genie is a fully functional unit. Testing was done on the following:
- Temperature settings responsive to settings
- Unit rotation, rocking and stirring (smoothly and quietly)
- RPM and Rev Time can be set to protocol specifications


Manufacturer

Scientific Industries

Model

SI-1200

Serial Number

1407

Power Requirements

120V, 60Hz, 5A

Dimensions

(W x D x H)




24.5 x 19.5 x 14.75 in
















This unit is for the study of microorganisms and tissue cell growth under strictly controlled conditions of temperature and agitation. It is designed to provide the security of precise temperature control and uniformity for demanding incubation/refrigeration applications without taking up a great deal of space.
Used
- A pre-owned and tested instrument that may show signs of wear
Flat-Rate Freight ($285)
- The instrument is web-wrapped to a pallet with shrink-wrap.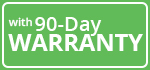 Backed by a 90-day Warranty
- Your instrument works, or we repair, refund, or replace.
Payment & Security
Your payment information is processed securely. We do not store credit card details nor have access to your credit card information.