Description
Sorvall Discovery 90SE Ultracentrifuge in Good Condition -- All Tested and Ready to Go!
This Sorvall Discovery 90SE ultracentrifuge is in good physical condition and has been thoroughly inspected and tested by our centrifuge technician. It was tested to 80,000 rpm with temperature dropping during the run, indicating performance is to specification. Everything has been checked and it's ready to be shipped to your facility without delay.
Want to add a rotor to your 90SE?
This centrifuge doesn't come with a rotor, but we have compatible rotors in stock so please don't hesitate to contact us about adding a rotor to your purchase.
All Panels Repainted -- Looks Great!
Everything has been inspected by our technical staff to ensure you receive this centrifuge in its best possible condition. Both the rotor chamber and centrifuge exterior are in good physical condition, with all of the side panels and the top panel receiving a new coat of paint. There is some minor wear from use and age, but all is in good working order.
Tested by Centrifuge Technician to 80,000 RPM
Thoroughly inspected, serviced, tested by our resident centrifuge specialist, this centrifuge was tested to 80,000 rpm with temperature dropping during the run and vacuum holding, indicating it meets performance specification. Additionally, the chamber cooled to nearly +0°C outside of a run.
The refrigeration, vacuum, lid latching, control panel, and all settings have been tested. This centrifuge is configured for 208V. The following is a list of the testing performed:
- Tested centrifugation:
PASSED
- Tested refrigeration:
PASSED
- Tested vacuum:
PASSED
- Tested lid latching:
PASSED
- Tested control panel:
PASSED
- Tested accel/decel:
PASSED
From Experienced Centrifuge Dealer to your Lab
New Life Scientific is no stranger to centrifuges. Over the past four years we have dealt in and worked on a wide variety of benchtop and floor centrifuges from the top manufacturers, including Eppendorf, Beckman, and Sorvall/Thermo.
You can have confidence in our technical evaluations and our warranty knowing that we have actual in-house technicians who inspect, test, service, and repair centrifuges. After their examinations and being cleaned inside and out, they often leave our shop meeting manufacturer specs.
When you buy from us, you're not just buying a centrifuge. You also gain a resource for after-sales support for any questions or issues that may arise, even after your warranty expires.
Manufacturer

Sorvall

Mfg. Date

2003

Model

Discovery 90 SE

Serial No.

10300853

Maximum speed

90,000 rpm

Max. centrifugal force

692,149 x g

Speed control accuracy

± 10 rpm (1,000 rpm to max. speed)

Time for acceleration and deceleration

About 5 min. from 0 to 100,000 rpm or vice versa

Rotor temperature control/display accuracy

± 0.5°C (set temperature is from 0°C to 40°C)

Set speed

1,000 rpm to max. speed in increments of 100 rpm

Vacuum system

Oil rotary vacuum pump and oil diffusion pump combined

Ultimate vacuum of 0.13 Pa

Noise level

53 dB (measured 1 m from front)

Maximum heat dissipation into room

1 kW/hr

Cooling method

Thermo-module cooling (CFC-free)

User interface

LCD display and keypad

Interface

RS232C x 1 CH

Ambient operating range

10°C to 35°C

Voltage

208V, 50/60 Hz, 20 A max, Single phase

Dimensions (W x D x H)

31 x 35 x 39 in

Weight

400 kg (882 lb)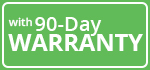 Backed by a 90-Day Warranty - Your instrument works, or we repair, refund, or replace.

Used - A pre-owned and tested product that may show signs of wear.

Flat-Rate Freight with Custom Crate ($380) - The instrument is protected by a custom-built, foam-padded crate.

Payment & Security
Your payment information is processed securely. We do not store credit card details nor have access to your credit card information.