Description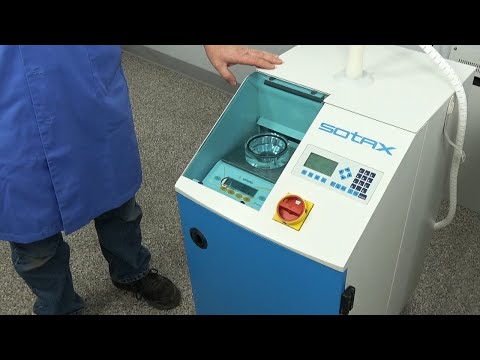 SOTAX MPS Mobile Dissolution Media Preparation Station 8200-2 Demonstration - YouTube
Video will open in a new window
Using the eBay App? Paste link into a browser window:
SOTAX MPS Mobile Media Preparation Station for Dissolution Testing
SOTAX's MPS enables efficient, reproducible dissolution medium prep that will save you more time, and stress, than ever.
Our used MPS, manufactured in 2012, has been fully tested with excellent results by our technical staff. The included dispensing nozzle and power cable make this a turnkey system that's ready to go the day you receive it.
Fully Tested & No Problems Found
Our technical staff tested every aspect of this MPS and found no problems. After filling the mixing chamber with water, our staff heated, mixed, pressurized, and dispensed it with proper accuracy.
Additionally, our technician removed the panels during operation to observe the mechanics. All the motors, valves, and pumps worked smoothly.
- Fill mixing chamber with water as the dissolution medium, heat it:
PASSED
- Mix dissolution medium:
PASSED
- Pressurize dissolution medium:
PASSED
- Dispense dissolution medium accurately:
PASSED
- All buttons on control interface tested and working:
PASSED
In Good Condition Overall
Aside from chipped paint on its edges, this entire system is in good condition and will integrate nicely alongside the other instruments in your lab. Please see the photos for a detailed look at the instrument's blemishes.
- SOTAX MPS Mobile Media Preparation Station
- Dispensing nozzle
- Power cable
Reproducible Preparation Ensures Testing Integrity
Wheel-Mounted for Easy Maneuverability
From a Professional Dealer to your Lab
New Life Scientific is an experienced scientific vendor with a history of positive customer experiences. You can have confidence in our technical evaluations and our warranty knowing that we have actual in-house technicians who inspect, test, service, and repair the various instruments we receive.
After examination and thorough cleaning, products often leave our shop meeting manufacturer specs. When you buy from New Life Scientific, you're free to contact us at any time for after-sales support concerning any questions or issues that may arise, even after your warranty expires.
Manufacturer

SOTAX

Model

MPS

Item No.

8200-2

Serial No.

8027.017

Mfg. Year

2012

Media

All standard dissolution media possible [no organic solvents]

Volume

10 L or 20 L [selectable batches]

Temp. range

20°C to 45°C

Degassing capacity

< 60% oxygen saturation [with immediate dosing of freshly prepared medium into dissolution test vessels]

Time

Media preparation: Approx. 12 min for 10000 mL [800 mL/min]
Automatic cleaning: Approx. 10 min

Media dosing

Flow rate: 1500 mL/min
Accuracy: 50-80 mL +/- 0.8 mL
80 - 1000 mL +/- 1%
Pump calibration: Gravimetric

Balance option

Capacity: 6100 g
Readability: 0.1 g

Vacuum

-0.7 bar

Tube dimensions

For media supply: Inside ø 8.0 mm; outside ø 12.7 mm
For concentrate supply: Inside ø 8.00 mm; outside ø 12.7 mm
For dosing: Inside ø 8.0 mm; outside ø 12.7 mm
For rinsing: Inside ø 15.0 mm; outside ø 21.0 mm
For drain: Inside ø 10.0 mm; outside ø 16.0 mm

Cleaning requirement

DI water [flow rate: 30 L/min]; pressure: 3-5 bar

Materials in contact with media or dosage form

PTFE/PEEK tubing, PVDF connections, Viton [FPM] seals and fittings

Control

Integrated firmware with display and front keypad

Interfaces

RS 232, parallel port

Power Requirements

Mains voltage: 115/230 V +/- 10%
Frequency: 50/60 Hz
Power consumption: 2200 VA

Noise emission

<70 dB [A]

Operating conditions

T° from 15°C to 30°C, %RH between 10% and 75%

Weight

90 kg (198 lbs)

Dimensions (W x D x H)

500 mm x 800 mm x 1200 mm (19.7" x 31.5" x 47.2")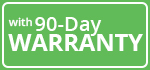 Backed by a 90-Day Warranty - Your instrument works, or we repair, refund, or replace.

Used - A pre-owned and tested product that may show signs of wear.

Flat-Rate Freight with Custom Crate ($380) - The instrument is protected by a custom-built, foam-padded crate.

Payment & Security
Your payment information is processed securely. We do not store credit card details nor have access to your credit card information.