Description
Sysmex XE 5000 Automated Hematology Analyzer for Clinical Diagnostic Use - Includes PC, Software in Good Physical Condition

This Sysmex XE 5000 is a tested and functional hematological analysis instrument designed to streamline the diagnostic processes of a medium to high-throughput laboratory.
With its programmable routines, compatibility with Sysmex automation solutions,
and maximum throughput of 150 whole blood samples per hour, you can be sure
that the XE 5000 will scale to meet the demands on your lab.
Our XE 5000, which is in good condition, has been tested in-house and found
functional, though it does require some work by a more knowledgeable individual
in order to be deemed fully functional.
A NLS technician found that this XE 5000 successfully communicates with the PC
and that its compressor powers on without issue. Though it has some signs of
minor spills, this machine is one of the cleanest units we've seen yet.
This instrument did raise errors primarily dealing with its reagents (which we did
not have available) and the vacuum pressure. The error stopped displaying when
our tech closed a hose.
This XE 5000 requires a more knowledgeable individual in order to reach full functionality.
Because this is a medical instrument, we strongly recommend that the buyer
contact Sysmex for professional installation.
- XE-5000 Analyzer

- Air compressor / vacuum unit

- Windows PC w/ Sysmex XE-2100 software installed

- LED monitor

- Keyboard + Mouse

- Communication cables

- Power cables
Note: Hoses/tubing, reagents, and manual(s) not included.


Trusted Instrument Vendor
New Life Scientific is an experienced scientific vendor with a history of
positive customer experiences (just check out our reputation!). You
can have confidence in our technical evaluations and our warranty knowing
that we have actual in-house technicians who inspect, test, service, and
repair the various instruments we receive.
After examination and thorough cleaning, products often leave our shop
meeting manufacturer specs.
When you buy from New Life Scientific, you're free to contact us at any time
for after-sales support concerning any questions or issues that may arise, even
after your warranty expires.

Manufacturer Specifications
Manufacturer

Sysmex

Model

XE 5000

Serial No.

A1828 10/2009

Date of Mfg.

October 2009

Throughput

Whole Blood Mode:

150 samples/hr (max)




Body Fluid Mode:

38 samples/hr (max)

Sample Volumes

200L / 130 (closed / open mode)

40L (capillary mode)

Data Storage Volume

10,000 samples (w/ graphics)

Configurations

Standalone

Sysmex HST-N, Sysmex XE-AlphaN

Interfaces

Sysmex WAM (HL7 & ASTM)

Dimensions (W x D x H)

27.8 x 28 x 35.9 in
70.62 x 71.12 x 91.19 cm

Weight

178 lbs (80.74 kg)
Used
- A pre-owned and tested instrument that may show signs of wear
Flat-Rate Freight ($285)
- The instrument is web-wrapped to a pallet with shrink-wrap.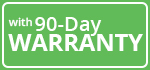 Backed by a 90-day Warranty
- Your instrument works, or we repair, refund, or replace.
Payment & Security
Your payment information is processed securely. We do not store credit card details nor have access to your credit card information.