Description
Sysmex XN 2000 Hematology Analysis System in Excellent Condition with RU-20 Reagent Delivery System
A co-primary system that eliminates the need for shopping for a backup CBC analyzer, the Sysmex XN 2000 can process 200 samples an hour with only minimal daily maintenance. When combined with the RU-20 reagent delivery system, the XN 2000 maximizes efficiency for CBC testing.
This pre-owned Sysmex setup (which our head technician describes as a "monster system") not only includes the base XN 2000 unit, but also the RU-20 reagent unit,two PU-17 pneumatic units, a laser printer, and a barcode scanner. With a setup like this, the only thing you'll need to supply is the PC and software.
Each Component Professionally Inspected - No Flaws Found
After its initial cleaning upon arrival at our facility, our technicians inspected every inch of this instrument for any cosmetic flaws or damage. We are pleased to report that every part of this system is in excellent condition.
Because there was no software included with this system, we were limited to simply "power-testing" it. Based on its condition and the fact that it powers on without issue, we are confident that this system is 100% functional. All you'll need is a PC and the Sysmex software.
Please note that the printer likely needs cleaned as images have a "ghost" on the paper, though it gets lighter with each subsequent print job.
- Sysmex XN 2000 Hematology Analyzer (x2 XN-10 Analyzers)
- Sysmex RU-20 Reagent Delivery System
- (x2) PU-17 pneumatic units
- HP LaserJet P3015 laser printer with 60%-full MICR toner cartridge
- Barcode scanner
- Power cable
XN 2000 = TWO XN-10 Analyzers: Co-Primary System to Maximize Uptime
Sysmex describes the XN 2000 as being a "co-primary system". Because the two XN-10 units can operate concurrently, then you can achieve a max throughput of 200 CBCs per hour. You can also have one unit run through its maintenance procedure while the other keeps plugging along.
(And while we're on the subject, you'll be happy to hear that the maintenance process requires minimal effort on your part. All you have to do is plug in a Sysmex Clorox maintenance tube and initiate the procedure.)
You won't lose a second of productivity with the XN 2000.
RU-20 Reagent Delivery System: Reduced Reagent Changes = More Time Saved
Your lab's CBC testing throughput is further enhanced with the RU-20. By constantly supplying the XN 2000 with diluent, the RU-20 reduces the frequency at which you need to drop what you're doing to change reagents.
XN 2000, RU-20, & Pneumatic Units All Manufactured in 2012
In Excellent Condition - Will Look Great On Your Lab Bench
From a Professional Dealer to your Facility
New Life Scientific is an experienced scientific vendor with a history of positive customer experiences (just check out our reviews!). You can have confidence in our technical evaluations and our warranty knowing that we have actual in-house technicians who inspect, test, service, and repair the various instruments we receive.
After examination and thorough cleaning, products often leave our shop meeting manufacturer specs. When you buy from New Life Scientific, youre free to contact us at any time for after-sales support concerning any questions or issues that may arise, even after your warranty expires.
| | |
| --- | --- |
| Manufacturer | Sysmex |
| Model | XN 2000 (x2 XN-10 analyzers) |
| Serial Nos. | 11963, 11964 |
| Mfg. Dates | Both October 2012 |
| Electrical Requirements | 100-240V, 270VA, 50/60Hz |
| | |
| --- | --- |
| Manufacturer | Sysmex |
| Model | RU-20 |
| Serial No. | 11141 |
| Mfg. Date | October 2012 |
| Electrical Requirements | 100-240V, 120VA, 50/60Hz |
| | |
| --- | --- |
| Manufacturer | Sysmex |
| Model | PU-17 |
| Serial Nos. | 21070, 21071 |
| Mfg. Dates | Both November 2012 |
| Electrical Requirements | 100-117V, 230VA/50Hz or 280VA/60Hz |
Used
- A pre-owned and tested instrument that may show signs of wear
Two Box Shipments/Calculated Freight
- This shipping method requires a custom quote. Please
click here
to contact us.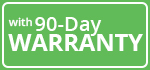 Backed by a 90-day Warranty
- Your instrument works, or we repair, refund, or replace.
Payment & Security
Your payment information is processed securely. We do not store credit card details nor have access to your credit card information.