Description
2017 Tecan Infinite M200 Pro Nanoquant: M Nano+ Configuration
Includes laptop and software
Designed for absorbance and fluorescence-based measurements, the M Nano+ configuration of the Infinite M200 Pro series has proven itself as a solid workhorse in labs around the world. It is widely used in DNA/RNA quantification, ELISA testing, protein quantification, and more.
Our used M200 Pro system, complete with a laptop and software, has been tested with no problems found. It's also in excellent condition and backed by a 90-day warranty -- we want to protect you in the slim chance something goes awry.
Interested? Here's additional info on testing 👇
Sensor & Software Connection Confirmed Functional
We set up the plate reader and connected it to a laptop running its companion software, Tecan i-control. The reader's sensor properly identified substance differences among microplate wells, and the reader itself communicated with its software.
No further testing was possible as we do not have a microplate standard.
Manufactured Late 2017 and in Excellent Condition
Having been made in November 2017, this M200 Pro can still be considered quite new in the world of laboratory equipment. As such, its cosmetics are outstanding. The system has been maintained well and bears very little wear.
(In fact, the most significant wear in this setup is some scuffs on the laptop's lid!)
Dual Read Modes: Absorbance and Fluorescence
The M Nano+ has monochromator-based absorbance and fluorescence reading. It also supports top and bottom fluorescence reading.
From a Professional Dealer to your Lab
New Life Scientific is an experienced scientific vendor with a history of positive customer experiences. You can have confidence in our technical evaluations and our warranty knowing that we have actual in-house technicians who inspect, test, service, and repair the various instruments we receive. 
After examination and thorough cleaning, products often leave our shop meeting manufacturer specs. When you buy from New Life Scientific, you're free to contact us at any time for after-sales support concerning any questions or issues that may arise, even after your warranty expires.
NOTE: It is possible that some of these specifications do not apply to this item, specifically. They are covering the entire Infinite M200 line, not just the M Nano+ configuration.
Manufacturer

Tecan

Model

Infinite M200 Pro

Configuration

Infinite M Nano+

Reference No.

30050303

Serial No.

1711008846

Mfg. Date

November 30, 2017

Power Specifications

100-120 VAC / 220-240 VAC

50 / 60 Hz

150 VA

Dimensions (W x D x H)

16.75" x 17.5" x 9.5"

Light source

UV Xenon flashlamp

Wavelength selection

Quad4 Monochromators system (2 excitation and 2 emission monochromators)

Bandwidth

Ex: < 5 nm for  λ ≤ 315 nm and < 9 nm for λ > 315 nm; Em: < 20 nm

Wavelength accuracy

Absorbance: < ± 0.5 nm for λ > 315 nm; < ± 0.3 nm for λ ≤ 315 nm




Fluorescence: < ± 2 nm for λ > 315 nm; < ± 1 nm for λ ≤ 315 nm

Wavelength reproducibility

Absorbance: < ± 0.5 nm for λ > 315 nm; < ± 0.3 nm for λ ≤ 315 nm




Fluorescence: < ± 1 nm for λ > 315 nm; < ± 0.5 nm for λ ≤ 315 nm

Wavelength range

Fluorescence intensity: Ex 230 – 850 nm, Em 280 – 850 nm




Absorbance: 230 - 1000 nm

Detectors

Fluorescence – PMT, UV and red-sensitive




Absorbance – UV silicon photodiode

Plate formats

6- to 384-well plates, cuvettes, NanoQuant plate

Temperature control

Ambient +5°C up to 42°C

Shaking

Linear, orbital

Fluorescence sensitivity values

Top reading: 170 amol / well (100 μl; 384-well plate)




Bottom reading: 9.0 fmol / well (200 μl; 96-well plate)




TRF: 90 amol / well (100 μl; 384-well plate)

Absorbance ratio accuracy @ 260 / 280 nm

± 0.07

Precision @ 260 nm

< 0.2%

Accuracy @ 260 nm

< 0.5%

Measurement range

0 - 4 OD

Injector pump speed

100 - 300µl/s

Injection volume

selectable in 1µl increments; max. volume: 800 µl per stroke

Dead volume

100 µl including pump back

Fastest read times

96-well plate: 20 sec

384-well plate: 30 sec

Wavelength Ex / Em-scan, 96-well plate (450 - 550 nm, 5 nm step): 150 sec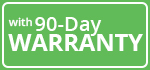 Backed by a 90-Day Warranty - Your instrument works, or we repair, refund, or replace.

Used - A pre-owned and tested product that may show signs of wear.

Flat-Rate Freight with Custom Crate ($380) - The instrument is protected by a custom-built, foam-padded crate.

Payment & Security
Your payment information is processed securely. We do not store credit card details nor have access to your credit card information.