Description
Dual Stage Rotary Vane Vacuum Pump
with Baldor .33hp Motor

This was tested by our knowledgeable technician and confirmed to
be in good working condition. The technician tested the vacuum pump
and it pulls down to 10 microns.
The Trivac is a workhorse of vacuum pumps, with a .33HP Baldor motor
this beauty will get the job done. Trivac is known to be durable, reliable,
long life and has an excellent vapor handling capability.



Here are a few of its desired applications

- Vacuum

- Distillation

- Degassing

- Thin Film Coating

- Pharmaceutical Freeze Drying

- Vacuum Furnace Evacuation

- Vacuum Metallurgy Processes Backing

- Pump for Mass Spectrometers

- Evacuation of Refrigeration Systems

- Evacuation of Process Chambers

- Laboratory Experimentation
*Oil will be drained before shipping




Includes a 90-Day Warranty for your protection
We realize that buying a second-hand instrument can be unnerving,
therefore we offer a 90-Day Warranty to protect you against any
equipment failure or defects.
Manufacture

Leybold Trivac

Model

D8B

Catalog Number

898974

Serial Number

30000018153

Power Requirements

110V/220//115/208-230V, 50/60Hz, 9.6/4.8//8.8/4.5A

Dimensions
(WxDxH)


8 x 24 x 18.25 in

Reliable Instrument Vendor
New Life Scientific is an experienced scientific vendor with a history of
positive customer experiences (just check out our eBay reputation!). You
can have confidence in our technical evaluations and our warranty knowing
that we have actual in-house technicians who inspect, test, service, and repair
the various instruments we receive.
Used
- A pre-owned and tested instrument that may show signs of wear
U.S. & Canada Freight ($285)
- Exclusive shipping to the U.S. and Canada. Freighted products below $1,500 are assigned this profile.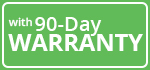 Backed by a 90-day Warranty
- Your instrument works, or we repair, refund, or replace.
Payment & Security
Your payment information is processed securely. We do not store credit card details nor have access to your credit card information.