Description
Thermo Finnigan Surveyor MS Pump SRVYR-MPUMP HPLC Mass Spectrometry Guaranteed to Work in Good Physical Condition

A low-pressure mixing pump with built-in solvent degassing and pulse dampening
systems, this Surveyor MS pump system provides optimum performance in the
lower flow rate ranges needed for mass spectrometry.

This instrument is designed to function with the Surveyor high performance liquid chromatograph (HPLC) system, able to be remotely controlled by PC and software
which would need to be provided by the end user.
This MS pump has been inspected and tested by our technician, verifying the
instrument to complete initialization and enter a Ready run state.
In Good Physical Condition
The overall physical condition of this MS pump is good with very minor signs of
wear, including a couple small scuffs, scatches, and drip stain on the front panel.
The interior compartment is in especially good condition with little sign of spillage.
Initializes and Enters Ready Run State
After inspecting and testing this MS pump, our technician found this instrument
to be working and in good physical condition. The MS pump initializes and enters
a Ready run state shortly after being powered on.
The following tests were performed to verify functionality:
- MS Pump powers on, initializes, and enters Ready run state
- Power and Run status LEDs activate and show solid Green, indicating a normal
Ready state, ready for a run
- Comm status LED activates and shows solid Amber, indicating Communication
with the data system has not been established which is normal since no PC was
connected at the time of testing
- Degas status LED activates and shows solid Amber, indicating The degas unit
is building vacuum. A flashing Amber would indicate failure, which it does not do.
Whats Included
This system includes the following:
- Thermo Finnigan Surveyor MS Pump
- Surveyor reagent holding tray
- Reagent tubing and bottle lids
From a Professional Dealer to your Facility
New Life Scientific is an experienced scientific vendor with a history of positive customer experiences (just check out our reviews!). You can have confidence in our technical evaluations and our warranty knowing that we have actual in-house technicians who inspect, test, service, and repair the various instruments we receive.
After examination and thorough cleaning, products often leave our shop meeting manufacturer specs. When you buy from New Life Scientific, youre free to contact us at any time for after-sales support concerning any questions or issues that may arise, even after your warranty expires.
Specifications
| | |
| --- | --- |
| Manufacturer | Thermo Finnigan |
| Mfg. Date | February 23, 2004 |
| Model | Surveyor MS Pump |
| Serial No. | 67369 |
| Part No. | SRVYR-MPUMP |
| Firmware | 1.1 |
| Voltage | 100-230V, 50/60Hz, 100VA |
| Dimensions (W x D x H) | 14.25 x 19 x 10.25 in w/ tray |
Used
- A pre-owned and tested instrument that may show signs of wear
Free Parcel Shipping
- All parcel (65 lbs and below) items are shipped for free unless the buyer chooses to expedite the shipping.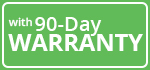 Backed by a 90-day Warranty
- Your instrument works, or we repair, refund, or replace.
Payment & Security
Your payment information is processed securely. We do not store credit card details nor have access to your credit card information.