Functional Condition
These instruments perform at manufacturer specifications, having undergone repair or service and sometimes cosmetic refinishing. Often, our work leaves the instrument in better functional condition and expected longevity than other used instruments of the same age. They are in excellent cosmetic condition.

Includes 120 day Warranty

These instruments have been confirmed to perform at manufacturer specifications by NLS technical staff and carry a longer warranty than standard used products. Additional extended warranties may be available for these instruments.

Includes 120 day Warranty

These instruments have undergone various levels of quality testing, some quite limited and others extensive. However, all are guaranteed to perform to manufacturer specifications unless some defect or limitation has been specified. Please pay close attention to the description to understand exactly what you are purchasing.

Includes 90 day Warranty

These instruments are either known to be malfunctioning or not guaranteed to function properly and are suitable for repair or salvaging for parts. They are not protected by a warranty.

Does not include a warranty
Cosmetic Condition
This product could almost be mistaken for being new, having negligible or no cosmetic issues. These issues may include things such as a small scratch or a few small nicks in the exterior. Little can be done to improve the condition level of this product.

This product has the appearance of a typical used product having some minor cosmetic issues and typical wear from use. These issues may include things such as scratches, scuff marks, nicks, a small hairline crack, or shallow dents in the exterior. Fixing these issues would only somewhat improve the condition level of this product, but wouldn't be considered necessary.

This product is clearly used and worn from much use having significant cosmetic issues and wear. These issues may include things such as large sections of paint chipping, scratches, deep scuff marks, dents, discoloration, cracks or stains. Fixing these issues would improve the condition level of this product, but it may be too costly.

This has the appearance of being broken and/or heavily worn from use having serious cosmetic issues and wear. These issues may include things such as huge sections of missing paint, discoloration, caustic erosion, deep dents, large cracks or frame warping. A major overhaul of the cosmetics would be required to fix the issues with this product.
Description
Fully-Functional Benchtop Centrifuge with 4 x 100mL Rotor, Buckets, & Adapters - 90-Day Warranty Included
- Fully tested, fully functional 15,000 RPM instrument
- In good condition
- Includes 4,000 RPM rotor
- Included bucket inserts allow for 5mL blood collection tubes - great for medical laboratories
- Thermo Fisher Sorvall Biofuge Primo Centrifuge
- Thermo Fisher 75007591 4 x 100mL swing-bucket rotor (4,000RPM)
- x4 Thermo Fisher 75007555 buckets
- x4 Thermo Fisher 75003599 inserts - 75mm x 13mm
- Power cord
With the current combination, four 5mL blood collection tubes can be processed.
Guaranteed to Meet Max Rotor RPM
In his testing, our technician ran the system at 4,000 RPM, the max speed of the included rotor. He also tested the maximum and minimum acceleration/deceleration profiles and tested pulse mode. No issues arose. We are confident in the machines functionality.
Experienced Centrifuge Dealer
New Life Scientific is no stranger to centrifuges. Over the past four years we have worked on a wide variety of benchtop and floor centrifuges from leading manufacturers, including Beckman, Sorvall/Dupont/Thermo, and Eppendorf.
You can have confidence in our technical evaluations and our warranty knowing that we have in-house technicians who inspect, test, service, and repair centrifuges. After examination and thorough cleaning, these instruments often leave our shop meeting manufacturer specs.
When you buy from us, youre not just buying a centrifuge. You also gain a resource for after-sales support, even after your warranty expires.
Versatile Operation - Supports Wide Range of Sample Sizes
The Biofuge Primo was designed with flexibility in mind. Its various combinations of rotors and adapters allow the processing of sample tubes ranging from 0.2mL to 100mL. This model also features:
-

2 acceleration profiles, 9 deceleration profiles
-

Persistent program storage -

simply reload the settings from your last run
-

Automatic rotor recognition -

System identifies the installed rotor and sets parameters to optimize processing
-

Thermo Scientific EASYcontrol II -

allows for intuitive and convenient instrument operation
The Biofuge Primo offers the best of three centrifuges - microliter support, general purpose use, and high speed.


Includes a 90-Day Warranty for your Peace of Mind
Buying pre-owned can be unnerving. We know you want assurance in your purchase, so we include a 90-day warranty with our equipment. If anything goes wrong, our in-house support is only a phone-call away.
Support for Instrument Longevity
We also offer continued support, including consulting and technical questions. We may be able to exchange or replace units in a pinch.


Manufacturer Specifications
| | |
| --- | --- |
| Manufacturer | Thermo Fisher |
| Mfg. Date | 2011 |
| Model | Sorvall Biofuge Primo |
| Dimensions (WxDxH) | 15 x 18.7 x 12.4 (31.5 cm x 38 cm x 47.5 cm) |
| Net Weight | 88.2 lb |
| Max RPM | 15,000RPM |
| Max RCF | 21,890 x g |
| Speed Range | 30 to 15,000 +/- RPM |
| Run Time | 9 hr., 59 min & continuous run mode |
| Electrical Requirements | 120V, 50Hz, 350W |
| | | | |
| --- | --- | --- | --- |
| Model | Max RPM | Max RCF | Max Capacity |
| 75007591 | 4,000 | 2,590 x g | 4 x 100mL |
| | | | | | |
| --- | --- | --- | --- | --- | --- |
| Model | Color | Tube Volume | Number of Tubes | Max Tube Size | Max Depth |
| 75003599 | Beige | 5mL | 5 | 13 mm | 75 mm |
Used
- A pre-owned and tested instrument that may show signs of wear
U.S. & Canada Freight ($285)
- Exclusive shipping to the U.S. and Canada. Freighted products below $1,500 are assigned this profile.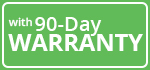 Backed by a 90-day Warranty
- Your instrument works, or we repair, refund, or replace.
Payment & Security
Your payment information is processed securely. We do not store credit card details nor have access to your credit card information.