Description
Thermo Shandon Excelsior ES Tissue Processor - Guaranteed to Work and Complete with Wax Baths & Monitor in Good Physical Condition

Take the hassle out of tissue processing with the Thermo Shandon Excelsior ES. With its integrated reagent pumps, real-time procedure monitoring via its full-color interface, and resource-conscious design, the Excelsior ES is ready to save your lab both time and supplies.
This pre-owned Excelsior ES has been fully tested, serviced, and deemed in perfect operational order here at New Life Scientific. Our techs ran the system through seven pump cycles including an extensive pump-in, pump-out procedure to clear all lines and chambers.
Though there are some light scratches on the top panel of the chassis and stains/general signs of use in the internal chambers, this machine has been preserved well and will still be leaving our shop in better condition than which it came.
Quick & convenient reagent loading
Thanks to its integrated pumps, theres no need to manually transfer reagents into other containers. Just pop in one of Thermos official bottles of reagent fluid and start processing samples - no transfer required!
Designed for supply preservation
The Excelsior was not engineered just for convenience -- it also contains measures to lengthen your reagent and wax supplies lifespan, thus saving you a pretty penny.
Its reaction chamber contain sensors that detect how many sample levels you're using, allowing it to dispense only the amount needed. The system also has a waste wax tray that allows you to empty solely the contaminated wax, leaving you the rest for the next run.
- Thermo Shandon Excelsior ES (w/ display & video cable)
- Wax baths
- Power cable


From an Experienced Tissue Processor Dealer
New Life Scientific is a regular seller of a variety of models of tissue processors from Sakura, Leica, and Shandon. We have experience in servicing and repairing them and know how to ensure they are functioning properly. We don't just power on our instruments, but we test all of their core features and repair issues.
We offer you an affordable option for pre-owned tissue processors without the risk of buying an untested, unwarranted instrument from an unproven seller. Over the years dozens of organizations have chosen us as their solution, from small labs to major universities, like The Ohio State University.
Manufacturer

Thermo Shandon

Mfg. Date


May 2007


Model

Excelsior ES

Part No.

A78400006

Serial No.

EX2349 0705

Date of Manufacture

May 2007

Power Requirements

100-240 VAC, 50/60 Hz, 950 VA (max), 200 VA (typical)

Dimensions (W x D x H)

Height to monitor platform:
26.5 x 20.5 x 44.5 in (670 x 520 x 1130 mm)
Height to top of monitor:
63 in (1600 mm)

Weight

(with no reagents) 246.5 lbs (112 kg)
(with typical reagents) 440 lbs (200 kg)
Used
- A pre-owned and tested instrument that may show signs of wear
Flat-Rate Freight with a Custom Crate ($380)
- The instrument is protected by a custom-built, foam-padded crate.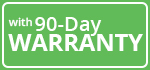 Backed by a 90-day Warranty
- Your instrument works, or we repair, refund, or replace.
Payment & Security
Your payment information is processed securely. We do not store credit card details nor have access to your credit card information.