Functional Condition
These instruments perform at manufacturer specifications, having undergone repair or service and sometimes cosmetic refinishing. Often, our work leaves the instrument in better functional condition and expected longevity than other used instruments of the same age. They are in excellent cosmetic condition.

Includes 120 day Warranty

These instruments have been confirmed to perform at manufacturer specifications by NLS technical staff and carry a longer warranty than standard used products. Additional extended warranties may be available for these instruments.

Includes 120 day Warranty

These instruments have undergone various levels of quality testing, some quite limited and others extensive. However, all are guaranteed to perform to manufacturer specifications unless some defect or limitation has been specified. Please pay close attention to the description to understand exactly what you are purchasing.

Includes 90 day Warranty

These instruments are either known to be malfunctioning or not guaranteed to function properly and are suitable for repair or salvaging for parts. They are not protected by a warranty.

Does not include a warranty
Cosmetic Condition
This product could almost be mistaken for being new, having negligible or no cosmetic issues. These issues may include things such as a small scratch or a few small nicks in the exterior. Little can be done to improve the condition level of this product.

This product has the appearance of a typical used product having some minor cosmetic issues and typical wear from use. These issues may include things such as scratches, scuff marks, nicks, a small hairline crack, or shallow dents in the exterior. Fixing these issues would only somewhat improve the condition level of this product, but wouldn't be considered necessary.

This product is clearly used and worn from much use having significant cosmetic issues and wear. These issues may include things such as large sections of paint chipping, scratches, deep scuff marks, dents, discoloration, cracks or stains. Fixing these issues would improve the condition level of this product, but it may be too costly.

This has the appearance of being broken and/or heavily worn from use having serious cosmetic issues and wear. These issues may include things such as huge sections of missing paint, discoloration, caustic erosion, deep dents, large cracks or frame warping. A major overhaul of the cosmetics would be required to fix the issues with this product.
Description
Thermo Scientific Sorvall Legend Micro 21R Refrigerated Benchtop Centrifuge in Excellent Condition with Rotor
This microcentrifuge, offering reliable spinning and to-spec refrigeration, has been fully tested with no problems found. Its included fixed-angle rotor and power cable make this a turnkey system that you can have running the day it arrives at your door.
Also included with this Micro 21R is a 90-day warranty -- you are protected in the slim chance something goes awry.
To-Spec Refrigeration, Quiet Spinning -- Excellent Testing Results All Around
Our in-house centrifuge specialist personally inspected and tested this microcentrifuge. He confirmed that all buttons and lid latches are operational, ran the system to 14,800 rpm without a problem, and noted that the refrigeration held the chamber at +2°C during that run.
The centrifuge ran smoothly and quietly (so quietly, in fact, that for a moment our technician worried that the refrigeration wasn't working!) Given that the centrifuge was manufactured in 2015 and has been well-maintained, no cosmetic servicing was required. It is in excellent condition inside and out.
- Powered on and initialized:
PASSED
- Tested all buttons and latches:
PASSED
- Ran to 14,800 rpm:
PASSED
- Refrigeration held at +2°C during 14.8k run:
PASSED
Manufactured in 2015, Maintained Well, in Excellent Condition
In the five short years since this Micro 21R rolled off the assembly line, its previous owners took very good care of it. As such, both its casing and chamber are very clean and free of damage.
Given its condition and functionality, we believe this centrifuge can hold its own against a brand-new unit.
- Thermo Scientific Sorvall Legend Micro 21R (PN: 75002446)
- Thermo Scientific Fixed-Angle Rotor (PN: 75003424)
- Power cable
From an Experienced Centrifuge Dealer to Your Lab
New Life Scientific is no stranger to centrifuges. Over the past four years we have worked on a wide variety of benchtop and floor centrifuges from the top manufacturers, including Beckman, Sorvall/DuPont/Thermo, Eppendorf, and Hettich.
You can have confidence in our technical evaluations and our warranty knowing that we have in-house technicians who inspect, test, service, and repair centrifuges. After we examine and clean them inside and out, centrifuges often leave our shop meeting manufacturer specs.
When you buy from us, you're not just buying a centrifuge. You also gain a resource for post-sales support for any questions or issues that may arise, even after your warranty expires.
| | |
| --- | --- |
| Manufacturer | Thermo Scientific |
| Model | Sorvall Legend Micro 21R |
| Catalog No. | 75002446 |
| Serial No. | 41832757 |
| Mfg. Year | 2015 |
| Maximum Speed | 14,800 rpm |
| Maximum RCF | 21,000 x g |
| Temperature Range | adjustable in steps of 1°C between -9°C and 40°C |
| Power Specifications | 120V, 60Hz, 4.3A, 380W |
| Dimensions (W x D x H) | 10.5 x 17 x 12.5" |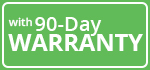 Backed by a 90-Day Warranty - Your instrument works, or we repair, refund, or replace.

Used - A pre-owned and tested product that may show signs of wear.

Flat-Rate Freight ($285) - The instrument is web-wrapped to a pallet with shrink-wrap.

Payment & Security
Your payment information is processed securely. We do not store credit card details nor have access to your credit card information.
Ask a Question or Request a quote!