Functional Condition
These instruments perform at manufacturer specifications, having undergone repair or service and sometimes cosmetic refinishing. Often, our work leaves the instrument in better functional condition and expected longevity than other used instruments of the same age. They are in excellent cosmetic condition.

Includes 120 day Warranty

These instruments have been confirmed to perform at manufacturer specifications by NLS technical staff and carry a longer warranty than standard used products. Additional extended warranties may be available for these instruments.

Includes 120 day Warranty

These instruments have undergone various levels of quality testing, some quite limited and others extensive. However, all are guaranteed to perform to manufacturer specifications unless some defect or limitation has been specified. Please pay close attention to the description to understand exactly what you are purchasing.

Includes 90 day Warranty

These instruments are either known to be malfunctioning or not guaranteed to function properly and are suitable for repair or salvaging for parts. They are not protected by a warranty.

Does not include a warranty
Cosmetic Condition
This product could almost be mistaken for being new, having negligible or no cosmetic issues. These issues may include things such as a small scratch or a few small nicks in the exterior. Little can be done to improve the condition level of this product.

This product has the appearance of a typical used product having some minor cosmetic issues and typical wear from use. These issues may include things such as scratches, scuff marks, nicks, a small hairline crack, or shallow dents in the exterior. Fixing these issues would only somewhat improve the condition level of this product, but wouldn't be considered necessary.

This product is clearly used and worn from much use having significant cosmetic issues and wear. These issues may include things such as large sections of paint chipping, scratches, deep scuff marks, dents, discoloration, cracks or stains. Fixing these issues would improve the condition level of this product, but it may be too costly.

This has the appearance of being broken and/or heavily worn from use having serious cosmetic issues and wear. These issues may include things such as huge sections of missing paint, discoloration, caustic erosion, deep dents, large cracks or frame warping. A major overhaul of the cosmetics would be required to fix the issues with this product.
Description
VirTis SP K 6KBTEL Freeze Dryer in Excellent Condition with 8-Port Manifold -- Turnkey System
This is a turnkey freeze dryer that has been thoroughly inspected, serviced, and tested by our lyophilizer specialist.
Given our careful inspection and service (detailed below), you'll be hard-pressed to find a used freeze dryer that rivals this one in terms of performance, accessories, and price. Our freeze dryer testing and service processes are among the most thorough on the used market.
Additionally, a 90-day warranty and a promise of post-warranty support accompany this freeze dryer. You can buy with confidence knowing that in the slim chance something goes awry, we'll have your back.
Refrigeration Recharged, New Lid Added, and More
The key component of our service was recharging the refrigeration system.
To ensure the refrigeration is operating at manufacturer specification, our technician performs a full evacuation of the refrigeration system and refills the system with new refrigerant. The recharge process involves the following:
- Vent system of refrigerant
- Apply 250 micron vacuum to test for leaks, remove debris, and boil off moisture in lines
- Nitrogen purge three times to clear lines for preventative maintenance
- Refill system with new refrigerant
- Confirm system is operating to manufacturer specification
We added a drum manifold and fabricated a new plexiglass lid for it. Also included are a strong vacuum pump, oil mist filter, fluid evacuator, a power cable, and one gallon of new vacuum oil.
In summary: this freeze dryer meets manufacturer specification across the board and will be leaving our shop in better condition than which it came.
In Excellent Condition -- Virtually No Signs of Wear
This freeze dryer has very little wear inside and out. The control panel is in especially good condition, featuring a bright, clear screen and responsive buttons.
Compact Size Saves Space Without Compromising Performance
According to the manual, the VirTis 2K, 4K, and 6K lyophilizers are designed for facilities with space constraints. Despite its small frame, the 6K offers a 9L condenser capacity that can drop below -85°C and hold an 8mT vacuum (as seen in our photos).
    - Vacuum pump
    - Fluid evacuator
    - x1 gallon of new vacuum pump oil
    - Power cable(s)
From a Professional Dealer to Your Facility
New Life Scientific is an experienced scientific vendor with a history of positive customer experiences. You can have confidence in our technical evaluations and our warranty knowing that we have actual in-house technicians who inspect, test, service, and repair the various instruments we receive.
After examination and thorough cleaning, products often leave our shop meeting manufacturer specs. When you buy from New Life Scientific, you're free to contact us at any time for after-sales support concerning any questions or issues that may arise, even after your warranty expires.
Manufacturer

SP Industries

Model

6KBTEL

Part No.

447830

Serial No.

41198

Mfg. Date

July 13, 2007

Power Specifications

208-230V, 15A, 60Hz, Phase 1

Condenser Capacity

9L

Dimensions (W x D x H)  (with manifold)

20" x 20.5" x 32"

Condenser Blank-Off Temperature

ES -55°C / EL -85°C

Condenser Capacity in 24 Hours

5 L

Overall Condenser Capacity

9 L

Sentry 2.0 Controller

LCD Display

Vacuum Indication (Millitorr, Millibar, or Pascals-selectable)

Atmosphere to 1 Millitorr

Vacuum Regulation

Vacuum Bleed Type

Temperature Vapor Pressure Conversion

Push Button

System Maintenance

Oil Change Message

PC Interface

RS232

Defrost Method

Hot Gas

Product Freezing in Condenser

ES -25°C / EL -40°C

System Refrigerant

CFC-Free

Condenser Type

Internal coil

Compressor Horsepower

ES  1/2 HP / EL  2X  1/2 HP

Average Time to 100 mtorr (0.13 mbar)

18 Minutes

Ultimate System Vacuum

10 mtorr (13 x 10-3mbar) 1.3 PA

Weight (lbs/kg)

ES 101 / 45.8
EL 131 / 59.4

Standard Voltages

115V/60, 208V/60, 220V/50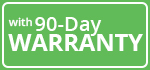 Backed by a 90-Day Warranty - Your instrument works, or we repair, refund, or replace.

Used - A pre-owned and tested product that may show signs of wear.

Flat-Rate Freight with Custom Crate ($380) - The instrument is protected by a custom-built, foam-padded crate.

Payment & Security
Your payment information is processed securely. We do not store credit card details nor have access to your credit card information.
Ask a Question or Request a quote!
Ask a Question or Request a quote!