Functional Condition
These instruments perform at manufacturer specifications, having undergone repair or service and sometimes cosmetic refinishing. Often, our work leaves the instrument in better functional condition and expected longevity than other used instruments of the same age. They are in excellent cosmetic condition.

Includes 120 day Warranty

These instruments have been confirmed to perform at manufacturer specifications by NLS technical staff and carry a longer warranty than standard used products. Additional extended warranties may be available for these instruments.

Includes 120 day Warranty

These instruments have undergone various levels of quality testing, some quite limited and others extensive. However, all are guaranteed to perform to manufacturer specifications unless some defect or limitation has been specified. Please pay close attention to the description to understand exactly what you are purchasing.

Includes 90 day Warranty

These instruments are either known to be malfunctioning or not guaranteed to function properly and are suitable for repair or salvaging for parts. They are not protected by a warranty.

Does not include a warranty
Cosmetic Condition
This product could almost be mistaken for being new, having negligible or no cosmetic issues. These issues may include things such as a small scratch or a few small nicks in the exterior. Little can be done to improve the condition level of this product.

This product has the appearance of a typical used product having some minor cosmetic issues and typical wear from use. These issues may include things such as scratches, scuff marks, nicks, a small hairline crack, or shallow dents in the exterior. Fixing these issues would only somewhat improve the condition level of this product, but wouldn't be considered necessary.

This product is clearly used and worn from much use having significant cosmetic issues and wear. These issues may include things such as large sections of paint chipping, scratches, deep scuff marks, dents, discoloration, cracks or stains. Fixing these issues would improve the condition level of this product, but it may be too costly.

This has the appearance of being broken and/or heavily worn from use having serious cosmetic issues and wear. These issues may include things such as huge sections of missing paint, discoloration, caustic erosion, deep dents, large cracks or frame warping. A major overhaul of the cosmetics would be required to fix the issues with this product.
Description
VirTis SP Scientific Freezemobile FM25EL-85 Freeze Dryer in Excellent Condition with 24-Port Tree Manifold
Tested and serviced with a 90-day warranty, this VirTis SP Scientific Freezemobile FM25EL-85 freeze dryer is the affordable but reliable solution for equipping your lab for years of lyophilization. It's in excellent physical condition and guaranteed to meet your needs. In testing, we found that the system exceeds -85°C and pulls a 14mT vacuum.
Tested, Calibrated, & Meeting Manufacturer Spec
Our freeze dryer service process is more than just switching it on and looking for damage. We install brand new parts, recharge the refrigerant (if required), test for leaks, and calibrate the system so you will get excellent performance on day one.
With this particular 25EL, our technical staff did the following service:
- Leak testing performed
- Calibration performed
- Clean and regrease all vacuum port valves
- Add rebuilt vacuum pump
- Replaced some vacuum hoses
- Exterior panels repainted
After servicing it, our technician thoroughly inspected, tested, and calibrated this lyophilizer to ensure that it would be running well when it arrives at your facility.
Rebuilt Vacuum Pump with Extended Warranty
This freeze dryer has been outfitted with a rebuilt 2014 Adixen 2021i vacuum pump that is successfully pulling the system down to 14 millitorr. This pump carries a 1-year extended warranty, providing you the confidence that you'll be protected in case of breakdown.
Manufactured in 2011 and In Excellent Condition
This freeze dryer is in excellent condition, lacking any sort of major dings or damages. We even repainted the panels to rejuvenate it that much more.
Industrial Grade Design Maximizes Longevity
Per our own freeze dryer tech, VirTis Freeze Dryers are built to industrial grade to maximize its lifespan, which is why they come at a premium cost. They include sturdy refrigeration compressors and the manifolds are welded with solid 3/4" SS tubing for connecting stoppering valves, thus giving you an uncompromising seal.
When you're running your freeze dryer continuously for days at a time, longevity is an important factor to consider. So, if you're planning on doing extended freeze drying runs, a VirTis freeze dryer would be an excellent investment.
Refrigeration Cools to Specification
This lyophilizer cooled to -85°C without any recharging needed from our tech shop. It's clearly been maintained well and has a lot of life left in it. Additionally, the vacuum pull was a healthy 14mT.
Equipped and Ready for Operation
As long as you have compatible freeze drying vessels, you will be able to immediately start freeze drying with this system. With the included 24 shut-off valves, you can use all of the ports on the included tree manifold.
- VirTis Freezemobile 25EL-85 Freeze Dryer
- 24-Port Tree Manifold w/ 24 shut-off valves
- Adixen Vacuum Pump
- 1 Gallon Inland 19 Vacuum Pump Oil
- Fluid Evacuator
- Attached 208V power cable
Built to Serve Your Lyophilization Needs
Not only is this system capable of processing large batches with the 24-port tree manifold, but it also comes paired with a fluid evacuator that makes changing the vacuum pump oil remarkably clean and efficient.
- High capacity 25L condenser chamber
- 24-Port Tree manifold for large-batch processing
- 1.4 Gallon Fluid Evacuator for clean and efficient oil change
- Easy access for vacuum pump maintenance
- Smooth-walled condenser chamber for fast defrost cycle
Manufacturer

VirTis SP Scientific

Model

FM25EL-85

Part No.

449236

Serial No.

310855

Mfg. Date

2011

Lowest Condenser Temp.
(50 Hz / 60 Hz)

-82°C / -85°C

Max. Condenser Capacity

25 L

Condenser Surface Area

506 in2 / 3264 cm2

Max. Ice Condensing Capacity in 24 hours**

12 L

Max. Deposition Rate**

0.5 L/hour

Condenser Pull-Down from 20°C to -45°C

≤ 25 minutes

Number of Compressors

2

Compressor Horsepower

1.0, 1.0

Vacuum Time to 100 Millitorr

≤ 20 minutes

Lowest System Vacuum

≤ 15 mT

Average Defrost Time

≤ 60 minutes

Refrigerant

R-407C (high side compressor)
R-508B (low side compressor)

Construction

316L Stainless Steel Condenser Chamber

Voltage

208-230 V, 60 Hz, 1 Ph, 20 A

Dimensions (W x D x H)

35" x 27" x 71" w/ manifold
*Performance specifications are based on SP Scientific test data from units operating at an ambient room temperature of approximately 20°C. SP Industries recommends an operating range of 15-25°C (59-77°F).
**The specified Maximum Ice Condensing Capacity in 24 Hours and Maximum Deposition Rate are based on the process of freeze-drying water as aggressively as possible. The freeze dryer's ability to collect ice at an hourly rate or over a specified period will always be application dependent.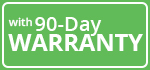 Backed by a 90-Day Warranty - Your instrument works, or we repair, refund, or replace.

Used - A pre-owned and tested product that may show signs of wear.

Flat-Rate Freight with Custom Crate ($380) - The instrument is protected by a custom-built, foam-padded crate.

Payment & Security
Your payment information is processed securely. We do not store credit card details nor have access to your credit card information.
Ask a Question or Request a quote!
Ask a Question or Request a quote!